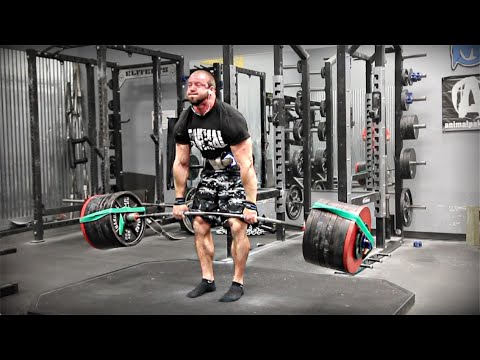 Who: Today's guest is Pete Rubish. Pete is a passionate powerlifter, who is 242-pound competitive raw powerlifter with his best total being 2028lbs at 240.4lbs bodyweight. Pete is an inspiration to me and his form videos have caused massive improvements in my own lifts. In this interview, we discuss how to find your inner motivation and intensity and go from being a beginner to a great in the gym.
Listen Here
What we cover:
Who he is
How he went from training in his basement to a legend in the powerlifting community
Why passion is so important in choosing what you want to do in life
What he thinks makes a good man
How he started powerlifting and why it resonates with him compared to other sports
Where his intensity, motivation, and passion for lifting comes from
How he plans out his training to recover from an injury and to be a successful powerlifter
What you need when picking a gym
How he would advise a gym newbie start training
Why some Personal Trainers and Coaches fail
How you should set your goals in the gym (and the time frame)
Where you can find your own animalistic passion for lifting weights
How you can get back into shape and into the gym or how you can reignite your love with the gym
What his biggest learning experience in the gym has been and how it has changed him
The best recovery methods for powerlifting
Why you need to listen to your body over your mind
How you can build consistency in the gym and avoid burning out, how to make the gym work for you and your goals
How he builds to a PR attempt
How to develop your mental toughness
His take on training partners and how you can find a good one
How you can get a great diet without going mad
How he ensures he has time for his girlfriend and his four-legged life partner
How does he deal with the fast break questions
The main training myth that he hates
Who he'd invite to his dream dinner party
What you should take from this interview
How you can keep in touch with him
Connect with the guest:
Something to reflect on:
We all start somewhere. Stop making excuses and start today. You never know where it may lead you.
Listen & Subscribe to the podcast here:
If you enjoy the podcast, please help me by posting a review on iTunes! I thoroughly enjoy doing the show and would love to hear what you think. Also click those social media buttons to stay in touch for updates on the latest posts, affiliate deals, virtual hugs and what not!
Check out this episode!
A product that you should check out!
Next Level Guy is affiliated with some amazing companies, who offer some amazing products for you to check out.
I highly recommend the following product (please note: this is an affiliate link and will open to an external website):
For all affiliate deals, special offers and reader exclusives, please click this awesome link: Let's see them affiliates! 
Want to listen to another episode?
To see all current episodes, simply click here.
Podcast: Play in new window | Download
Subscribe: Apple Podcasts | Android | Email | Google Podcasts | RSS | More