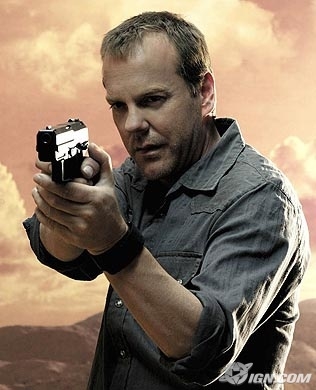 Character: Jack Bauer
From: 24
Type: TV Show
What is it about:
This is one of my favourite clips. Jack Bauer has gained some intel on the whereabouts of kidnapped Secretary of Defense James Heller and his daughter Audrey Raines (Jack's secret girlfriend). A extremist group have kidnapped the two, ready to kill Heller online for his perceived crimes against their people. The American Government, trying to avoid the backlash such an event would cause, are ready to blow up the compound to stop the murder been shown live. Jack has hardly any time to save Heller and have the missile flying towards the compound aborted.
Why this is a great example of a Alpha Male in Action:
Jack stays calm under pressure. He is greatly outnumbered but he doesn't panic. He simply works towards his game plan in his rescue efforts. Even when Jack can't find Audrey – after she has been moved from her cell – Jack continues forward with his mission. He doesn't panic or go off looking for Audrey – he knows that Heller is in immediate danger and must rescue him first. Jack has his priorities and follows through on them.
Jack controls James Heller and keeps him safe. Even when Jack is shot, he tells Heller what to do, to keep him safe.
Jack talks in a deep, authoritative tone. People listen to him and do as he says.
Jack doesn't use filler words or suck up to Heller. He tells him what he needs to do and only that. He doesn't say anymore than he needs to do to achieve his goals.
Jack is a great example of a Alpha Male focused solely on his goals. Notice how he doesn't deviate from his plan he keeps on trying to rescue the hostages. He doesn't panic or hide. He knows what needs done and goes to achieve it.
Jack Bauer is a great Alpha Male. Some of what he does is a bit OTT and intense due to the nature of his work but you can learn a lot from watching him.
Jack Bauer is a favourite character of mine, how do you rate him? Let me know in the comments below