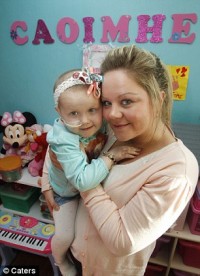 A few posts ago, you may recall I mentioned about a cracking wee girl, 3-year old Caoimhe Neeson, who is only 3 but has already been through more in her life than most people will ever face.
She was sadly 'diagnosed with a fast-growing malignant brain tumour and needs to raise £200,000 to go to America to get the life saving treatment that she needs' after being turned down for treatment on the NHS. The money has been trickling in for the wee angel but she needs more and faster.
Now a professional soccer (or football, depending on which side of the water you sit on), who heard of her plight has launched an amazing auction of one time only sporting memorabilia to raise money for Caoimhe and help her get the treatment she needs (please see the article here: Article about Robert).
As Christmas approaches, it is the perfect time to not only get a brilliant present for a family member or friend (or yourself!) but to also remember the true meaning of the season and help those who are less fortunate then ourselves.
Visit the auction and help Caoimhe by going here and spending a lot of money!
Want to donate directly? Then use this link: HERE
Christmas is an amazing time of year. Let's make this one the best she's had yet!