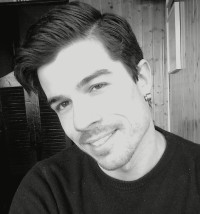 It's time for part 2 of my interview I did with Jordan Alexo on how to become a 'Full Time Sexy Man' and get better with women. Check this out!
THE BREAKDOWN
Who: Jordan Alexo
Where is he Normally: To find out how to be a 'Full Time Sexy Man', check out Jordan's awesome site here.
Why should you care about this:  It's time for part 2 of the great interview I did with Jordan Alexo on how to be a Sexy Man! Jordan breaks down the concepts of being sexy and how you can become the sort of man that any woman would want in her life. In this interview we cover what problems modern man faces, who he looks up to and what he recommends you do to improve your success with women right now.
SO WHAT DID HE HAVE TO SAY?
NLG: As you'll be aware, my website is aimed at showing guys how to change using film/TV characters as examples. What film/TV characters do you believe are 'full time sexy men'? What films or TV characters should my readers watch to become better with women?
JA Answer:
NLG: You've got a great outlook on life. Can you explain how you adopt such a positive outlook on life? What inner game tips would you give to men who don't believe they can become good with women? How can men with social anxiety, depression etc change when they believe down to their core that they suck with women and always will?
JA Answer:
NLG: I generally believe men today have lost our way. We are living lives with shallow goals, no focus in our careers etc and using drink and drugs to forget the pain and guilt. What do you think is the biggest problems that men face in modern day society? What do you think hold men back from becoming who they could be? Why do men prefer to stay 'average' or copy other guys?
JA Answer:
NLG: Can you tell me any tips for life or business that you have found that shouldn't work but do, the ones that sound so stupid and absurd that go against what people traditionally think works but it gets results (e.g. ignoring a girl makes her work harder to get you)
JA Answer:
JA Answer 08
NLG: Finally, if you were to talk to all of men at once, what would you say – what motivation or telling off would you say? If you could give all men a final message what would it be? 
JA Answer:
SOCIAL MEDIA LINKS
Damn! Part 2 was just as good – which part did you prefer though and why? Please let me know in the comment section. If you liked it, please it the social media buttons and show me some love, it'll help me get this blog to the Next Level!
Podcast: Play in new window | Download
Subscribe: Apple Podcasts | Android | Email | Google Podcasts | RSS | More