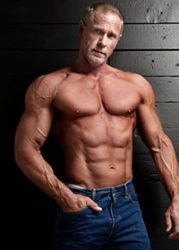 Episode #55 Steve Taylor IFBB Pro on how to get in phenomenal shape regardless of your age 
Who: January is the month that everyone wants to get into shape, but most people never get anywhere, they let excuses stop them. A common one is age. Surely, you can't get into shape if as you get into your twilight years? Wrong!
Steve is 63 years old and is in phenomenal shape. He looks so good, he won a IFBB Masters Physique Pro card. So what is it that makes him so successful, to look so good? Let's find out! 
A quick word about the affiliates before we get to the interview… Before we get into that, a quick word about our affiliates. I've managed to build up some great relationships with some awesome companies. This allows me to obtain special discount codes, deals, and listener exclusive. Please go to www.nextlevelguy.com/affiliates for further info.Wanting to get fit internally and externally, then you need to try some of the awesome fitness gear and supplements that Onnit makes. From steel maces to the amazing cognitive enhancer 'Alpha Brain' to a truly amazing line of kettlebells shaped in the guise of animals and superheroes and so much more … you need to try Onnit! Use the code 'NEXTLEVELGUY' in the discount code section of the checkout, to get 10% off any eligible items in your basket of great supplements and fitness gear. They are also offering a number of free trials of supplements you should take advantage of and trial which work best for you before committing to a full bag. For others, I am particularly loving the 'The Natural' the pick up video guidance course by RSD Max, which aims to help you become a natural with women, Ross Edgley's awesome new book 'The World's Fittest Book' which provides awesome advice on training, health, nutrition and building successful lives and in which is the philosophy and tactics he has used to just finish swimming around the UK without going on dry land once, and if you, like me, love Amazon, then feel free to use my Amazon link to get some great discounts and bargains, including a Kindle that is currently my favourite gadget for passing time when travelling, web surfing, reading ebooks and so much more, a truly awesome buy for you or a gift for someone else.
There are so many other great offers from My Protein, Under Armour, The Protein Works, Bulletproof Coffee, Me Undies, Gainz Box, Dollar Shave Club and so many more. For all of the free trials and special deals etc on these and so much more, check out www.nextlevelguy.com/affiliates. I hope you have as much fun listening to this one as I did during the interview. Enjoy!
Who he is and how does he think his childhood helped shape him for his success
Was there a turning point to making him enter body building/men's physique?
What factors would he attribute to the success that he has had?
Who did he look to as a role model when he was younger?
What small changes has he made to his training that have created the best returns in his physique improvements?
How does he monitor and analyse his physique? How does he know when he is improving or not?
Where does he think most modern men are going wrong?
What were the initial changes he noticed in himself to know he was on the right track before the muscles started coming in?
Does he change his training in any particular way to keep the developments? 
What does a normal training cycle look like and how it works towards a competition? Does it change when we age?
What is his philosophy towards diet, eating clean, cheat meals, supplements etc?
How do people react to him when he looks like that?
What does he want people to remember when they think they can't get into shape as they are too old or whatever other excuse they are telling themselves?
 The steroid question
How did he get involved with Aging Evolution
How does he deal with the fast break questions?
What does he want people to take from the interview?
How to keep in touch with him
SOME THINGS TO REFLECT ON
 Genetics may assist but you can achieve the body that you have always craved but putting in the work. Nothing is impossible. Don't blame your genetic makeup, work with what you have until you get what you desire. 
Steve set himself a small manageable goal, to do one competition and look where it has taken him. What small goal can you set yourself towards your main desire that will help you start towards it today?
Notice the way that Steve focused on his goals, not just lip service but let them consume him, and motivate him, and how it helped him – your goals need to get you out of bed in the morning, they should make you want to turn off the TV, and focus your free time at them, you should be proud of your goals and where they are taking you in life
Steve's success came when he sourced help from suitable coaches, mentors etc and other knowledgeable people – who are the mentors you need in your life to achieve your goals?
"Nutrition is the most important factor". You can't out train a bad diet. You need to eat different depending on your goals. 
"Discipline and perseverance" are what has helped him the most. You won't see the changes every day but friends and family will notice it over time. You have to commit, every day, but the change can be phenomenal.
To see a drastic change, your approach to fitness needs to one of consistency and to make it part of your lifestyle  
Steve focuses on his own training and helps when he is asked – notice he is isn't been lead by his ego but by his dreams. He is looking to achieve his goals, not impress others. It is fine to keep yourself. Do't be the guy throwing unwanted advice to others if it is not asked for, but be willing to help those who ask if possible. 
Note how Steve doesn't train that differently to others but he keeps going. Like they say in Brazilian Jit-Jitsu, a black belt is a white belt who never gave up and just kept training. 
Maintenance is easier than growing. Focus and build up and then keep it topped up. Nut up and grind!
 Steve's ultimate goal isn't about what he looks like, it is about him as a person and how he makes others feel. There is always a bigger picture in life and try not to get caught up so that you can't see the trees for the wood. 
LINKS YOU WILL NEED TO CONNECT WITH THE GUEST
If you enjoyed the podcast, please help me by posting a review on iTunes! I thoroughly enjoy doing the show and would love to hear what you think. Your feedback will help me improve the show and ensure it helps. Also click those social media buttons to stay in touch for updates on the latest posts, affiliate deals, virtual hugs and what not!
AFFILIATE PRODUCTS YOU SHOULD CHECK OUT
| | |
| --- | --- |
| Click the image to load | What the affiliate is |
| | Amazon To get the Kindle that I love, buy it here |
| | Blinkist Blinkist summaries the important points of books for quick learning |
| | The Natural by RSD Maxx Learn to become a natural with women by learning how to become the man you were always meant to be! Please click here if you would like to read my review of this awesome product |
| | Onnit Use the code 'nextlevelguy' in the discount code section of the checkout, to get 10% off any eligible items in your basket of great supplements and fitness gear |
WANT TO LISTEN TO ANOTHER EPISODE?
Podcast: Play in new window | Download
Subscribe: Apple Podcasts | Android | Email | Google Podcasts | RSS | More