THE BASICS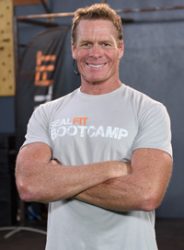 Today's guest is Mark Divine, who is a former SEAL, whose experience and expertise had the American Government task him with creating a nationwide mentoring program for SEAL trainees. Not only did it increase the quality of SEAL candidates, it reduced BUD/S attrition rate up to five percent. He is an author and creator of the SEALFIT and Unbeatable Mind website and podcast. Mark is an accomplished martial artist with black belts in Seido and Goju Ryu Karate, a military hand-to-hand combat certification in SCARS, and senior ranking in Saito Ninjitsu. He is a trained Ashtanga Yoga teacher and created the innovative Unbeatable KOKORO Yoga program taught to his students. We will be focusing on his awesome book 'The Way of the SEAL' but this interview will allow you to utilise the SEAL way of life to allow you to achieve your own goals.
A quick word about the affiliates before we get to the interview… Before we get into that, a quick word about our affiliates. I've managed to build up some great relationships with some awesome companies. This allows me to obtain special discount codes, deals, and listener exclusive. Please go to www.nextlevelguy.com/affiliates for further info. I'm using my Kindle that I got from Amazon daily, recently I have been catching up on TV series using Amazon Prime, which offers great films and shows. I have been loving my new super soft Under Armour boxers, which have replaced all my underwear, they fit great, don't ride up and give support and comfort in all the right places. If you are hitting up Onnit or Barbell Apparell, then use my discount code of 'NEXTLEVELGUY' to get 10% off your order. For others, I am particularly loving the 'The Natural' the pick up video guidance course by RSD Max, which aims to help you become a natural with women. I am recently single again and this is pumping up my confidence and showing me the skills I need to meet fantastic women and get the dates and girlfriend I want, desire and deserve. Ross Edgley's awesome new book 'The World's Fittest Book' is another reread just now in anticipation of his new tour. In the book he provides awesome advice on training, health, nutrition and building successful lives and in which is the philosophy and tactics he has used to just finish swimming around the UK without going on dry land once (living on a boat till completion when not swimming). Tickets to his tour are available now and imo it is a must attend.
There are so many other great offers from My Protein, Under Armour, The Protein Works, Bulletproof Coffee, Me Undies, Gainz Box, Dollar Shave Club and so many more. For all of the free trials and special deals etc on these and so much more, check out www.nextlevelguy.com/affiliates. There is something for everyone, the perfect gift for family or yourself, regardless of the occasion. New deals and offers are added all the time, so please keep an eye on this page and use and share as you want, all commissions are spent on improving the website
I hope you have as much fun listening to this one as I did during the interview. Enjoy!
LISTEN HERE
WHAT WE COVER
Who is he?
How his childhood made him who he is today
His inspiration or turning point for joining the military
How important are mentors to men in their life and pursuit of goals?
Why does he think men abuse drink and drugs and how can this be changed
What was his inspiration for writing the book – what did he hope to achieve from it?
The additional training that he provides that helps make the SEALS so successful
Does he have any favourite client transformations
Where do men go wrong when they read self-improvement books?
How can you become SEAL-like in the fastest way possible? How should you use the book to get the most from it?
How can we find our why in life – how do we discover our purpose?
Where should you start with transforming your life to become more SEAL-like?
The two wolfs within you and how which one you feed, dictates how you act
The importance of situational awareness and why you need to develop it
The mantra that got him through SEAL training
What would he want someone to use his book to focus on and work towards in the next six months?
What does he want people to take from this interview?
What is an unusual fact about him that surprises other people?
How can you keep in touch with Mark?
SOME THINGS TO REFLECT ON
Travel can help change you and make you a different person. Experiencing new cultures, and having new experiences can accelerate your learning and growth as a person.
Mark mentions how a positive role model changed him and set him on his path of success today. Who could you look to as a mentor in your life? How could you ask for their help and work with them to achieve your goals?
It is OK not to have everything figured out and to ask for help. You can learn as you go, develop as you go along your life and ask for advice and move between domains etc. You don't need to have a perfect plan, you just need to start. Start now, start today and work towards your goals.
Regret is the worst pain imaginable. Don't go through life 'second-guessing yourself'. Pick your goals and go for it. On your deathbed you will know that you gave it your best and not die with your best still in you.
We all deal with loss and suffering. However, you do not need to act on emotion as the same as the majority. You can learn to use emotions to your advantage and control yourself in all aspects, to 'embrace the suck' and you can use these negative experiences as a positive instead and learn from them.
You need to learn how to calm distractions and learn to truly focus your mind, to learn what your true purpose is in life
What would be your mantra to use daily to initiate flow state within yourself?
What you see for yourself in your minds eye, is what you will become – what do you see for yourself?
Don't just 'get by in life'. Do the work and find your balance point, and go for your goals. You will be surprised at how far you can go in life. Stop wasting time and get achieving.
LINKS YOU WILL NEED TO CONNECT WITH THE GUEST
SUBSCRIBE TO THE PODCAST
If you enjoyed the podcast, please help me by posting a review on iTunes! I thoroughly enjoy doing the show and would love to hear what you think. Your feedback will help me improve the show and ensure it helps. Also click those social media buttons to stay in touch for updates on the latest posts, affiliate deals, virtual hugs and what not!
AFFILIATE PRODUCTS YOU SHOULD CHECK OUT
Click the image to load
What the affiliate is
Amazon

Blinkist summaries the important points of books for quick learning

Learn to become a natural with women by learning how to become the man you were always meant to be!

Onnit

Use the code 'nextlevelguy' in the discount code section of the checkout, to get 10% off any eligible items in your basket of great supplements and fitness gear
WANT TO LISTEN TO ANOTHER EPISODE?
To see all current episodes, simply click here.
Podcast: Play in new window | Download
Subscribe: Apple Podcasts | Android | Email | Google Podcasts | RSS | More