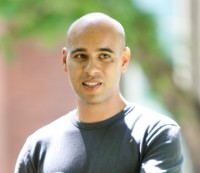 WHO ARE WE TALKING TO?
Who: Leo Babauta
Where is he normally: http://zenhabits.net/
Why should I care what he has to say: This is an interview I have been wanting for a long time – Leo is something like a God in the blogging world! He runs the hugely successful Zen Habits blog, where he discusses how to remove the clutter (and change your habits) from your life and lead a clear, straight forward awesome life. On his clean and crisp site, Leo offers detailed articles on a variety of topics that will affect you in your everyday life, each with actual action steps that you can implement right there and then. His book 'The Power of Less' (affiliate link) shows you how to remove the clutter in your business and your life to see immediate and large advances by living more simply. I have learnt a lot from reading Leo's site. I have implemented a lot of his strategies and saw a marked degree in my own happiness. His site continues to grow daily but Leo remains true to his values and is an awesome family man. What else do I need to ay? This guy is epic and was kind enough to quickly answer a few questions I had (despite being a nobody blogger compared to him!). Read the interview now!
WHAT DID LEO HAVE TO SAY?
NLG: Can you please tell me a little about yourself – how did you go from being a normal guy to a heavyweight blogger?
Leo: I'm still a normal guy — married with six kids, living a simple life and learning about changing habits. After a year of changing a whole bunch of my habits successfully, I started Zen Habits to share some of what I'd learned, and to show people how I simplified my life. It turns out (it was a big surprise to me) that a lot of people want to simplify their lives and change their habits too, so my blog grew very rapidly in the first year of its existence (2007). After a year, I had 26,000 subscribers, and today I have about 260,000 subscribers.
NLG: Wow that is some increase! Was there an event in your life that inspired the website?  What brought about your pursuit for calmness and removing the clutter? How has running the website changed how you view the website and your life and do you have any goals for the website?
Leo: All the changes I made in 2006 were breathtaking to me, and a complete revelation. I couldn't help but be excited and wanted to share what I'd learned with others. I had learned to live more mindfully and simply, with less clutter, after having a life with too much, and too much debt on top of that, while not having enough time for my family. Having Zen Habits has changed my life in so many ways — I've learned from my readers, and my readers have helped me to learn more about myself and what I've done to make the changes I've made. I don't have any goals for Zen Habits other than to continue to help people live simple and happy lives.
NLG: As a great father, how do you balance work and family life – what advice would you give to any father out there who wants to better their families life but feels time and financially restricted?
Leo: First, simplify your commitments at work and outside work to make more time for your family — if you do other things outside work consider whether they can be eliminated. Second, when you're home, focus on doing things with the kids (for free or cheap), like reading, playing sports, going to a playground, playing board games, making art. Third, when you're with them, really be with them — don't think about work or other things you need to do, but fully be present.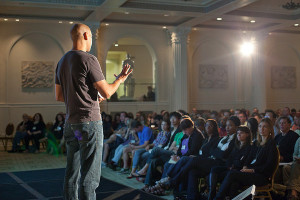 NLG: What do you think is the main problem with men in today's society? Are we becoming too materialistic or is it more a case of our virtues being out of line of what a good man should be like? What do you consider makes a good man of worth?
Leo: There are no problems with men, only problems men think they have. We are already perfect, and our lives are already perfect, and yet we so often want things to be different. We only need to realize we have everything, and all we need to be happy we already have. End the thinking of "I need more" or "I wish I had something else", and be grateful for what you have and who you have. Show your gratitude, practice mindfulness, and compassion. We are not too materialistic at heart, but we have let advertising influence us so we think we need things we don't, and think we should have things to show our worth when we don't need to show anything. What makes a good man of worth? Every man is a man of worth. He just needs to realize it.
NLG: I 100% agree – too many people are fed bullshit from the media etc and think they are not complete but they are perfect the way they are and have nothing wrong with them. You run one of the most visited websites around today, you have a busy family life and run many projects at once. How do you juggle your various priorities? How can you deal with so much and still work towards a simple life?
Leo: I don't do that much. I write, I read, I get active, I spend time with my family. Four things, every day, and I have 16 hours to do them, so there's plenty of space between those things. You don't need to juggle priorities — just eliminate things that aren't priorities, to make space, and then enjoy that space.
NLG: So simple! It's amazing how much we over-complicate things! Do you believe that there are certain milestones that every man should aim towards? Do you have goals that you are working towards in your own life? (For example, getting a great body or to reach 100,000 visitors daily to the site etc)
Leo: No. I used to believe greatly in goals, but now I know that they are artificially created destinations that don't matter much. They can be useful to some people, as a stepping stone, but in reality having a goal of "a great body" doesn't get you that body. Learning to live mindfully and healthily does, and gets you more important things as well. Reaching 100,000 visitors is a nice idea, but isn't helping the visitors you already have more important? Isn't doing things that you love and helping others more important than some arbitrary number? Focusing on that number will cause you to do things that aren't in line with your values. Focus on actions that you know are right, and that give you happiness, and you will end up in a good place no matter where that is. More importantly, focus on this present moment, not some destination (of 100,000 readers) that is far in the future.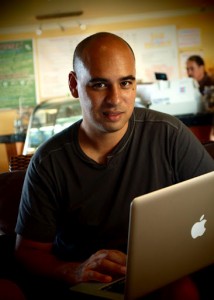 NLG: I love that answer! I think if we all didn't attach importance to numbers and statistics, we would all be a lot happier in general. What do you consider your best article?
Leo: Breathe. http://zenhabits.net/breathe/
NLG: Can you tell me any tips for life or business that you have found that shouldn't work but do?
Leo: Focusing on the smallest step right now will get you the farthest.
NLG: I'm finding that right now – making big plans doesn't work as I procrastinate. Starting by making small, baby steps, gets me going and I actually reach my targets! If there is someone reading this right now and wants to be like you, what three action steps – apart from reading your book! – would you give them to begin their transformation?
Leo: In each moment, focus on what you're doing right now, what you're feeling, what surrounds you, instead of thinking of other things all the time. Practice by doing sitting meditation. Learn to love yourself, and accept others for who they are.
NLG: Finally, if you were to talk to all of men at once, what would you say – what motivation or telling off would you say?
Leo: You are perfect. Be happy with yourself, be grateful for what you have, and be compassionate to everyone you meet.
NLG: Thanks for talking to Leo – It's awesome to have you on the site!
SOCIAL MEDIA LINKS
You'll want to follow Leo. He has awesome articles that are life-changing. Use the following links to keep up to date with him