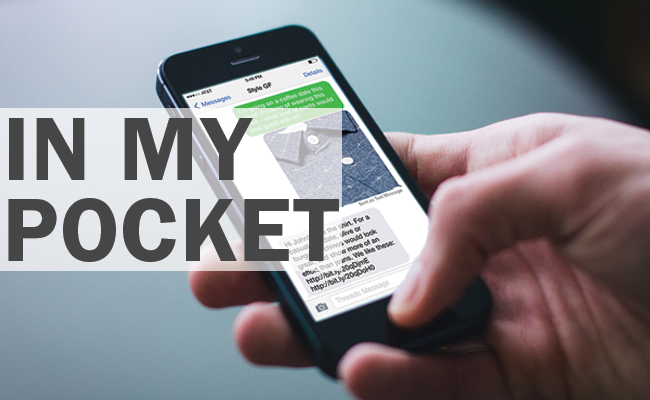 Hi all,
I am sorry for the slight delay in new content being published, this is down to me applying for some new jobs in my professional capacity. A new post will be coming shortly, with some great interviews scheduled in. In the meantime, I wish to highlight an awesome new service that one of my favourite websites is bringing out, that I feel is a must-use service. I'll let Megan Collins explain it further ….
Hi guys,
We get emails, tweets, Facebook messages and more every day from followers looking for advice specifically for them – their body types, their budgets, and (ahem) their insecurities, and we wanted to find a way to funnel those questions for dedicated, more personalized support.
That's why we're launching on-demand messaging from Style Girlfriend, offering real-time style suggestions and shopping recommendations via SMS. All powered by the Style Girlfriend team (as in, it's #notabot). The best part? It's totally free.
Which is exactly why I'm so excited to share what's next….
For as long as Style Girlfriend's been around, I've gotten questions from readers about personal stuff.
Not weird personal stuff, like, "Should I get this mole checked?"
More like, "Loved that article on colored chinos, Meg, but I've got soccer player thighs and probably won't fit into any of 'em. Any ideas?" and "Going to a wedding this July in a barn. What do I wear?" and even "My closet is in need of a major overhaul. Where do I start?"
And to some extent, we have been able to help. I field tweets and emails as quickly as I can, but my inbox lately looks like an aging boy bander trying to fit into skinny jeans – totally stuffed.
That's why we're introducing personalized style support in two ways:
1) on-demand messaging
2) in-person styling in NYC 
I'M INTRIGUED. TELL ME MORE.
For those with one-off questions, you can take advantage of on-demand messaging with Style Girlfriend – a service that offers real time style support via SMS. At the mall and need to know if that blazer fits right? Take a pic and send it our way. Getting ready for an interview and want some outfit inspiration? Text us and we'll help you find a look that says, "You'd be a fool not to hire me."
If you live in NYC and want more hands-on help with your wardrobe, our in-person service is for you. Book a two-hour closet consultation with Ashley, our amazing men's stylist, to figure out what to keep and how to wear it, what to toss, and what just needs a quick trip to the tailor (we've got a guy).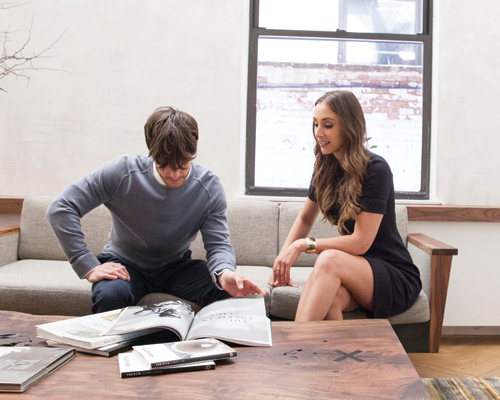 WHAT CAN I ASK?
Anything but our weight or age.
Messaging is best for quick q's – Does this shirt go with this tie…What should I get my wife for our anniversary…Do I need a haircut? We can send product links so you can shop our picks right from your phone. In-person clients can expect to get their entire wardrobe situation sorted out.
HOW MUCH IS IT?
The messaging service is free (for now, anyway). The two-hour closet consultation is being rolled out at a special introductory rate of $175 with the special code IMNEWHERE.
WHO WILL I BE TALKING TO?
The SG team–directly, confidentially, and always one-on-one. Our trusty stylist Ashley is tackling in-person clientele. Not literally.
WHAT ABOUT THE BLOG?
First of all, we prefer to call it a "digital men's lifestyle resource," but don't worry, it's not going anywhere. We love sharing daily style shortcuts and shopping picks for you. Adding 1-on-1 service through text and in-person consultations means we can now offer even more personalized support. Which is awesome.
I DON'T LIVE IN NYC. WHEN ARE YOU BRINGING THE IN-PERSON SERVICE TO MY CITY?
Have you ever thought of moving? New York is lovely in the fall…
For fans far and wide: hang tight. Our plan is to take over the world, one stylish and confident guy at a time.
SEEMS LIKE A LOT TO TAKE ON AT ONCE. ARE YOU GETTING ENOUGH SLEEP?
Definitely not.
This is for you, so we can't wait to hear your feedback!
Cheers,
Megan Collins