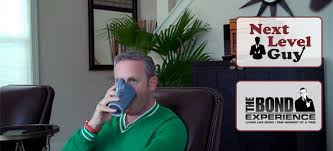 TALKING TO DAVID ZARITSKY
Today, we have a cracking interview with Bond-Guru David Zaritsky on how you too can channel your own Inner-Bond skills and become like Bond in your own life.
I love David's The Bond Experience as I have loved James Bond as a child. I have watched the films hundreds of times and day dreamed since a young child trying to be as close to Bond as possible.
When I found David's site, I was delighted. He has cracking, heavily detailed videos and lives the James Bond lifestyle. His posts and videos cover all aspects of the James Bond lifestyle. However, he doesn't fall into the trap of just trying to sell the expensive Bond style items. David writes about how you can become Bond like on any wage. David is a highly likeable guy, stylish and very confident. You can't help not watch video after video of his.
After being a major fan for years, I asked David to feature on this site as we are very similar. We both use films to better our lives. After watching this interview, you'll be channelling your Inner-Bond in no time!
THE INTERVIEW
The questions I asked David was:
1) Can you tell me about your journey from normal dude to Bond guru? What started your journey on living your life like 007? Was there a defining moment that caused it? How has becoming more like James Bond affected your life for the better/worse?
2) What is it about the James Bond character that you feel makes him such a great role model for men?
3) What three tips would you give to the 'Average Joe' to begin their transformation and become more Bond like?
4) Which of the Bond movies is your favourite and why? What did the film teach you or cause you to adopt in your live to become more Bond-like?
5) There is a massive James Bond fan-base spread out all over the world, different nationalities, religions etc but Bond ties us all together and helps us focus on bettering our lives by focusing on a role model. Can you give any great examples of how Bond has inspired or changed one of your readers lives for the better?
6) Which three of your videos are you most proud and why? Please send me the URL links and I will include them in the post.
7) If someone wanted to become more Secret-Agent in their life, what is the first area of their life that you would recommend they looked at (e.g. health, finance etc) and why is this the best area to pick?
8) One of the best things on your site, in my opinion, is the 'Frugal Bond'. Can you explain your idea of dressing more like Bond but cheaper? How should my readers begin to dress better and more Bond like?
9) Confidence and self-belief are major components of Bond's personality. They shine through in Bond in every film as he scores with a lot of hot women. If you were to give three tips to my readers on how to get Bond-Good with women, what would they be?
10) Finally, if you were to talk to all of men at once, what would you say – what motivation or telling off would you say? If you could give all men a final message what would it be?
SOCIAL MEDIA LINKS
If you want to find out more about David, you can at the following links:
Let me know what you think in the comment section below.