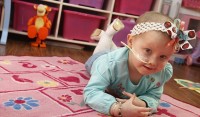 Hi all,
A good friend has passed this onto me, which I had to share with you.
Caoimhe Neeson is 3 and has already been through more in her life than most people will ever face. She's sadly been
'diagnosed with a fast-growing malignant brain tumour and needs to raise £200,000 to go to America for cancer treatment that is not available in the UK – this treatment could prolong her life'
Now I don't normally ask for money from you but I think this is an awesome cause and it would be amazing if you could help out. Money is normally wasted but you could make a real difference here in many people's lives.
It would be a very Next Level Guy action to donate HERE and help this family out.
To read about Caoimhe, please click here.