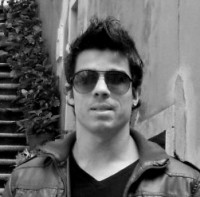 So after speaking to the delightful Ty Chase, we know what women want from us men. Yet, how do you go about becoming the kind of guy that she wants? To answer that, I grabbed some time with dating and life coach Jordan Alexo and broke down what is a Sexy man and how you can become one in a superb way. Please note this is part 1 of a two part interview.  I have included the question I asked Jordan and his answer is an audio link. For ease, please right click the link and open it in a new tab.
THE BREAKDOWN
Who: Jordan Alexo
Where is he Normally: To find out how to be a 'Full Time Sexy Man', check out Jordan's awesome site here.
Why should you care about this:  We all want to be cool, sexy and attractive to the opposite (or same depending on your preference) sex.However, what is 'sexy' to a potential partner? How do you become 'sexy' in the eyes of others as well as in your own belief? Jordan breaks down the concepts of being sexy and how you can become the sort of man that any woman would want in her life. In this interview we cover the basics, including what sexy is, what to avoid and some general tips you can put into use straight away.
SO WHAT DID HE HAVE TO SAY?
NLG:  Can you tell me about your journey from normal dude to self-improvement wizard? What started your journey on becoming better with women? Was there a defining moment that caused it? 
JA Answer 1: Jordan Alexo Answer 1
NLG: Your site is focused towards men becoming 'Full Time Sexy men'. What, in your opinion is a Sexy man? What are the defining characteristics of a man who is attractive to women? What do you typically see in an attractive man's personality?
JA Answer 2: Jordan Alexo Answer 2
NLG: For those who are still on their journey, what are the biggest mistake that men make with women? What do you think are the most off putting things we do and that women hate? How can we avoid doing these activities or character traits?
JA Answer 3: Jordan Alexo Answer 3
NLG: In terms of your own personal journey, what has been your biggest failure with women and what did you learn from it? Can you talk about your journey with women? What top 3 general tips would you give to someone who wants to change straight away? 
JA Answer 4: Jordan Alexo Answer 4
SOCIAL MEDIA LINKS
Told you! How good was that?! Best of all that was only part 1. So what did you think of it? Please let me know in the comment section. If you liked it, please it the social media buttons and show me some love, it'll help me get this blog to the next level!
Podcast: Play in new window | Download
Subscribe: Apple Podcasts | Android | Email | Google Podcasts | RSS | More