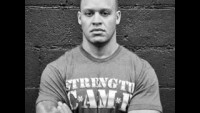 Today's post, is the final installment of the interview with Elliott. I hope this helps make your day awesome! (If you want part one, then click me!
Who: Elliott Hulse
Where is he normally: Elliott's Blog and Elliott's Awesome Youtube channel.
Why should you care about this: Elliott is simply awesome. He is the kind of guy that when you first hear him talk, you'll think he is crazy, then after a few videos, you become a major fan. The guy is so inspiring, he is so passionate about life and how you become the best and strongest version of you that you possibly can be. Instead of the standard advice that most 'self-improvement gurus' give nowadays, Elliott gives real, practical and life changing advice. His youtube series 'Yo Elliott' answers fans questions and he covers such a wide range of topics that there really is something for everyone. From personal experience, I have dealt with some problems, understood things better and got the kick up the ass I needed for a lot of his videos.
The following is a the second part of the Skype interview that I held with Elliott yesterday. Enjoy the final part of Elliott giving kick-ass lifestyle advice!
Please watch and let me know what you think in the comments below. Thanks.