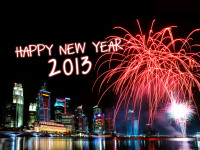 Happy New Year from all at Next Level Guy!
I would like to take this opportunity to wish you all the best for a happy, healthy, prosperous and awesome year!
A new year is a perfect time to go for the things that you want in life. Don't bother wasting time with affirmations or resolutions as they don't work.
Simply pick what you want from your life and go and get it. It's that simple.
Start now … or when you've sobered up!