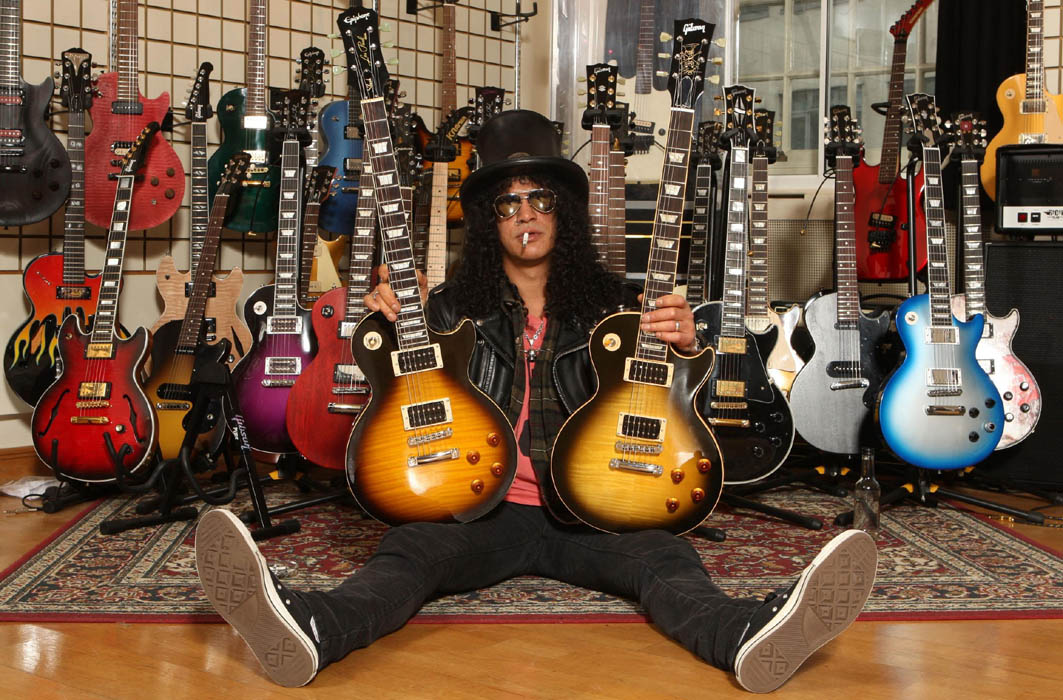 What is it?
Character: Saul 'Slash' Hudson
From: Velvet Revolver
Type: Music Stars
What is this clip about: At a live festival gig, this clip shows the Slash ripping out a guitar solo from one of his most famous songs.
Why should I watch it?
Slash gets into state when he plays guitar, it is his main love in life. You can imagine him to be never happy than when playing his guitar, even alone. He feeds off the energy of the crowd too. He is self-amusing, you can see that he genuinely loves to play. He takes centre stage and bounces around, notice how he focuses solely on his guitar during much of the solo, he blanks out the world, its just him and the guitar, he's in paradise.
Slash has created himself that is true to him. He dresses and acts the way he wants, regardless of his age. He has been playing for over twenty years now and still plays and acts the way he enjoys.
What Slash does is complicated but he makes it look easy. He manipulates the strings and actual guitar body to play the famous notes but he does it with ease. He plays the notes tenderly and focuses on his craft. Hours of practise have happened for him to play the way he does.
Despite other famous band mates and a lead singer, notice how your eye constantly always finds Slash. His image, ability and enthusiasm, just draws the viewer in. Slash is just himself and people love his authenticity.
When the camera zooms in on his, notice how he is almost in a trance, he is so dedicated to his playing, sweat is running down his face but he doesn't care.
How can I do that?
Decide on something that you want to learn or do. Don't pick a hobby or interest that is expected or demanded of you by others, even family. Girls can easily see when you are not honestly interested in something (or what they are saying!). Pick a hobby or interest that you truly love.
Slash was notorious for missing school and practising 12 hours a day. Put in the work and get as good at your hobby or interest as you possibly can.
Learn all about your hobby or interest. Look at it's origins, how different people in different cultures do it etc. Look at your chosen thing, from as many new perspectives as possible. For example, if it's a musical instrument, try playing a song that you don't like or from another genre than you play usually.
A good way to judge a hobby or interest that you are passionate about, is to see if you can talk about it. By definition, you should be able to explain it to someone else with passion, you should be able to sell them on why you like it so much. Unfortunately, you will find the opposite a lot in girls and guys a lot – they claim to like something just to fit in with the group (read: Hollyoaks etc). Don't be that guy though. Girls see through bullshit and they hate liars. Be the guy who isn't afraid to be himself and does what he wants – a Alpha Male!
Try new things and new experiences. Discover who you truly are by pushing your comfort zone and learn about the world, animals, poetry, politics, religion, sexuality and so on. Learn about your interests, likes and dislikes. Your gut will tell you what feels right and what doesn't. Listen to your natural reactions to things. Find something that feels right to you without really thinking about it and explore it further. You never know where it may lead you.
So, do I have it right? Did it blow your mind or suck ass? Let me know in the comments below and then watch another!