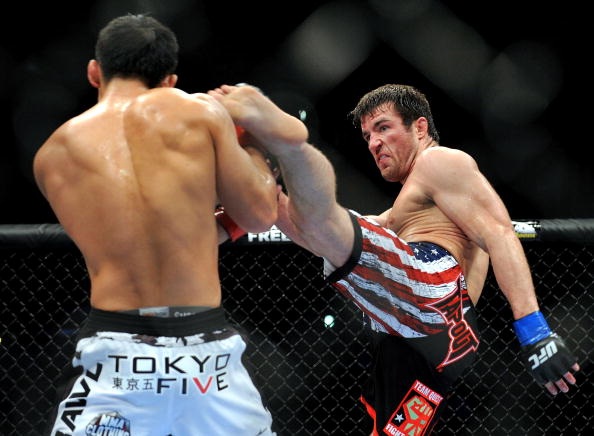 ;
What is it?
Character: Chael Sonnen
From: UFC (Ultimate Fighting Championship)
Type: Sport Stars
What is this clip about: In this clip, there is a mash up of a selection of Chael'd interviews, that show him being self-amusing.
;
Why should I watch it?
Chael is by far one of the most amusing Sports stars you will ever listen to. Every media appearance or interview he has, he talks as he thinks. He really doesn't care what he says, he just self-amuses himself as he goes.
He has created a persona or a identity for himself as 'The Most Interesting Man'. People now expect it of him and will watch his interviews etc to see what he will do next. This gives him internal self-confidence reference points and builds his confidence and allows his to do his thing.
He verbally rides the beta males in the interviews. Some are afraid to look him in the eye or confront him. He looks people direct in the eye as if he is challenging them to try and interrupt him. He talks loud and clearly and with passion. Beta males just let him talk for fear of what he may do next.
Chael just doesn't care. He says as he feels. He makes jokes and self amuses as he goes. Notice how he never backs down regardless of what is happening. Even surrounded by tough as nails MMA fighters (at the Press Conferences) he doesn't care, he just talks as he wants.
;
How can I do that?
To be frank, Chael is not a complete Alpha Male. Some of what he does is completely wrong and beta.
Practice in all social situations. Start small and take baby steps. Try and push the tempo of all conversations. Go for broke, say what you want. You will need to grow a set and say what you think. People may react at first but keep at it long enough and people will accept it as a reality.
On nights out etc, make women a secondary target. Go out with the sole idea of having fun. Make a target of saying as you think and enjoying what you do e.g. bored in a conversation then leave etc. You don't need to suck up to people. Your mission is to simply have fun. Strangely enough, girls will be attracted to you if you are ignoring them and just having fun. Weird but true!
Try new things and hobbies. Find things in your life that you truly enjoy and make you have fun. Make your life as fun as possible so you find everything enjoyable.
Try hobbies such as public speaking, stand up comedy classes etc. These sort of classes will help you get used to talking to crowds and being funny. They will also help you deal with pressure from crowds and saying what you think regardless.
So, do I have it right? Did it blow your mind or suck ass? Let me know in the comments below and then watch another!
;
;