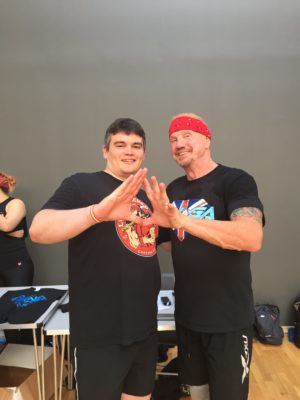 What was it?
'DDP Yoga' is a type of yoga that originated as 'Yoga for the Guys' (or my favourite term for it – 'Broga'!) but it has gradually evolved over time into a badass, low impact, challenging yet calming, awesome workout program for anyone of any age or fitness level. It can either be performed as an accompaniment to your fitness plan or it can be the only workout you do and still see a great transformation to your body.
'DDP Yoga' uses what is known as Dynamic Resistance. What is that you ask? Well, I'll let DDP answer that:
"Dynamic Resistance is what makes DDP Yoga so powerful and so unique. I guess you could call it my "secret sauce." You don't need weights, bands or gadgets; the only resistance equipment you need is your body, because dynamic resistance uses counteracting muscles to continuously resist your movement. In simple terms, it's like flexing all of your muscles as you move from one position to another. Dynamic resistance increases your heart rate and gets you into your Fat Burning zone. It converts slow moving, easy activity into fat-blasting muscle toning that quickly builds a sexy, slender, strong body."
'DDP Yoga' basically involves you performing a range of moves (which are dependant on the pack purchased), keeping certain muscles tensed as you move, while at the same time, you control your breathing. Sounds simple, right? Try it! Dallas has formulated the workout so that you work the entire body, challenge yourself (regardless of your fitness), burn fat , build muscles (many that you miss in typical workout programmes) and be pumped up enough to do it again at the end of the move set without putting any pressure or strain on your joints and limbs.
Basically, it does this sort of thing – what could you do with 'DDP Yoga?':
Who runs it?
'DDP Yoga' is brought to you by a former wrestler, actor and now turned Yoga-entrepreneur 'Diamond' Dallas Page, or as he is better known to his legions of fans, 'D.D.P'! Dallas discovered yoga through his wife, while he was rehabbing an injury he had sustained in the ring. He was approaching the age where the majority of performers typically were forced to retire due to the effects of injuries and wear and tear accumulated from wrestling. However, Dallas found that through yoga, he managed to get into the best shape of his life. He went on to win the title when he returned to the ring and continued to perform in the top tier of wrestling for years after. It was at this point that Dallas realised the benefits of yoga and how it can change people's life. He realised that he could help so many people but first, he would need to shift the unfortunate stigma that yoga had gathered over the years and find a way to get the masses into yoga and build a hot body. This lead to 'DDP Yoga' being born!
How is it run?
You attend on the day. After a quick check in at the desk to check your desk you enter into the hall. You are given a warm welcome and find a space to unroll your mat. You place your personal belongings to the side and stand by your mat. Dallas works his way around the room and introduces himself to everyone in the room and chats to all. His amazing wife Brenda, works around the room, checking your setup, making sure your mat is in a suitable position and you will have adequate room to work out and so will those near you, without any accidentally hits with limbs as you move into various movements.
Page and Brenda work from a small stage in the room, which is visible to all in the room. Page wears a headset so all can hear him as he introduces himself and explains his story, his philosophy for DDP Yoga and how it can change you and your life. After a short but amazing little focus on your breathing, which can be used to help you in all situations, Dallas and Brenda start by demonstrating moves and they both point out key things to focus on. Page wears a heart rate monitor to demonstrate how his low impact but challenging version of yoga works to help you burn fat, build muscle and make you awesome regardless of your injury history or current issues.
After taking the class through a variety of different fun moves, explaining it first and then we copy, we take a short break. We get to ask Dallas questions about him and Yoga during a quick breather and water break. Afterwards, we run through a full body session led by Dallas and Brenda and Murray (the first certified Scottish DDP Yoga coach, assisting, and helping participants to correctly move into the various positions). The full session is done to some great music and motivation from Dallas.
The session started at 1 and lasted till 4, followed by a group picture and individual pictures and a chat with Dallas.
Who attended:
This was one of the best things about the session in my opinion. There were men, women, old and young, fit and very unfit and everything in between. There were people with disabilities, those who had never tried Yoga before, those coming back from injuries, those who hadn't worked out since climbing off the couch but everyone had a great time. There were no drop outs during the session, as all of the exercises could be modified to suit the individual and their capabilities. DDP and Brenda (his wife) moved around, encouraging, pushing people, driving them to be their best. At the end, some were commenting on how they couldn't believe what they had achieved, Page encourages you to reach a new level in your mental belief.
Pro's:
From start to end, it was fun, encouraging, challenging, and enjoyable.
Page demonstrated all exercises thoroughly. He showed a lot of modifications to suit you regardless of your capabilities.
The group are very encouraging, motivational and positive to each other, this helps you achieve things you never thought you could do.
Page is a legend … he had great energy from start to finish, he pushed you when it was needed, supported when it was needed, cracked jokes and made it a great time for everyone.
I was shattered by the end! I had worked every muscle but felt fantastic afterward. I wasn't tired or beat up like I get sometimes with weight lifting, I was pumped up, motivated and tore through a long walk home.
I got an amazing mental high from the session. I found my thinking a lot clearer, I was more positive and took on the house work, dinner and everything else with ease afterward. The breathing techniques that Dallas teaches really helps centre you, feel the muscles as you work, calm you down and he is right, it really helps with stress and worries in other parts of your life.
You don't need much to take part. You can go barefoot, wear comfortable gym clothes, and all you need is a mat, water bottle and towel and some space to work out in. You don't even need a lot of that. (You can do it in front of the TV even!).
Page spends all the time working and motivating you, helping you and encouraging you … and then stays for ages after and will take selfies/photos with all participants, meet them, chat with them and makes you feel like a star.
Con's: 
There could have been more of a group cool down at the end. As you are working out your full body, and a lot of muscles that you rarely target in your daily life, they are awoken and a bit sore the next day but this can be easily fixed by the individual stretching after.
It was a bit difficult to remember to breathe in the method DDP taught as you tried to keep up with the instructions but as you practice this becomes easier.
£20 for a signed picture in the merchandise stall was a bit steep for me but I had had such a great time and it was such a pleasure, it was worth it to me.
It's popular, so get your ticket asap!
Value for money?
Truthfully, it was worth every penny. It was a great session, DDP is a truly awesome guy but so are the rest of his team. Everyone involved was very helpful, friendly and encouraging. I would recommend everyone try a 'DDP Yoga' session.
The DDP Yoga session was £60 approx and the DDP Q&A/Stories event was around £25. Both were worth it although the Glasgow venue for the talk night wasn't my cup of tea.
I had a thoroughly great time and loved every minute and met some great people. I would like to say massive thanks to Dallas and all involved in running this great event.
Want to go to one too?
You can go to it to by Visiting here for the UK schedule
If you would like to attend a DDP Workshop led by Scotland's first ever certified DDP Yoga Coach, Murray Thomas, serving the Central Belt and South of Scotland – delivering group sessions, one-on-one sessions and private sessions (business to business), please visit his website here for more info.
Want to find out more about DDP Yoga, Dallas and see my more in-depth review?
If you want to be part of the cool kids, you can pick up DDP Yoga, by clicking here. Please note, this is NOT an affiliate link, I just really believe in DDP Yoga.
Want to see the full, in-depth review that I did on DDP Yoga? Then click here!
You can follow Dallas on Twitter here and Like him on Facebook here.