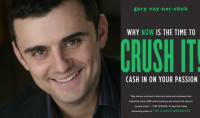 Today, I'm continuing the awesome series of NLG interviews and today's interview absolutely rocks! Have a listen and let me know your thoughts in the comments.
Who: Gary Vaynerchuk
Where is he Normally: Gary's Wine-a-pedia can be found here and his kickass personal website is located here.
Why should you care about this: This interview is awesome. Gary gives the listener a very direct and much needed kick in the ass. Gary lays down some great advice about how you can find your passion, why you need to build your own 'Personal Brand' and how you can start living an awesome life by living your passion and even start making money from it! In a world of amazing A-List bloggers, Gary is in a league of his own. If you listen closely enough, you can actually hear me fist-pump the area at various times at how good I thought Gary's answers were!
 Let Gary Change Your Life by clicking this link (audio): Live a Passionate Life with Gary Vaynerchuk
If you want to buy the superb book we keep referring to, you can pick up a copy by clicking on the book below (this is not an affiliate link – I just love the book that much!).
The book guides you on how to find your passion and make a business from it. One of the best books, I have had the pleasure to read in a long time.
Podcast: Play in new window | Download
Subscribe: Apple Podcasts | Android | Email | Google Podcasts | RSS | More