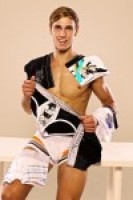 Today, I'm reviewing something that I never thought I'd ever get excited about, being a guy (unless it was on a hot girl!) … Underwear!
Product: 
Artillery Underwear
What is it:
A selection of high quality, limited edition designed underwear. This isn't your normal quality underwear though. Each pair you buy comes in a limited edition look, which tells it's own unique story, feels amazing on, gets complimented and few others will own (for now anyway!).
Who's made it:
The awesome folks at www.artillery4men.com
How much is it:
$26.95 is the cost per garment (Australian Dollars) plus shipping costs which depend on your location (Flat Rate of AU$2 per order within Australia. For international orders – Flat Rate of AU$5 per order)
Where do you get it from:
To get the only underwear you'll ever need, click this link: www.artillery4men.com
Is this an Affiliate Link:
No, but I was sent two free items to review by the company to review. I was sent 'Barbed wire by Juan Restrepo' and 'Polka-Dots by Daniel Ramos'.
What do you get for your money:
Depending on the items you buy, you get great fitting, well designed, very well made underwear. Each item has it own limited edition look from barbed wire to animals. The items come, folded, in small plastic packets, with the 'Artillery' logo in black and yellow on the packet.
What are they made from?
According to the packaging: 94% Cotton and 6% Elastane
How do they fit?
They fit superb! If you pick the correct size, these garments fit you like a glove. They hug where they are meant to and support what needs supporting!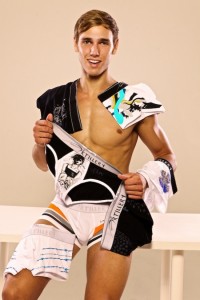 What happens when they get washed?
I washed the two items several times. I used different temperatures as well as mixing them in with dark colours or clothes with stains. I also tumbled dried the garments (which the label days not to) to see the result. I'm happy to state that I can not see any damage, fading, stretching, staining, shrinking or anything else on the garments. These really are high quality items!
What do 'other' people think of you when you are wearing them?
I had a lot of compliments from people while wearing the different garments. You will get questions from anyone who sees them even drying on a radiator!). I got the usual things said: 'where did you get them?', 'how much are they?', 'can you show us a pic of you wearing them?' (one of my Twitter Followers!) and 'how about you take them off now?' (from a lovely little blonde!). This underwear is a great thing to reveal as you get down and dirty with a partner or even to make yourself feel sexy!
How do they look under normal clothes?
They fit snugly under clothes without being too visible. Depending on the type you pick and the clothes you wear on top, you will not notice any underwear lines.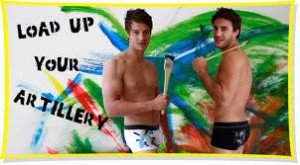 Pro's:
 They look great on – these aren't your bargain pack of 5 that rips and fades easy!
They feel great on, tight but not restrictive, sexy but not silly, strong but not rigid and supportive of your 'artillery' yet soft on!
Each garment has a story included about the design – it gives the garment an identity that you can become part of.
You can suggest your own designs to be made – see here for details.
Very high quality production – you can't really see any of the stitching.
Wearing the 'Artillery' underwear does make you want to get into the best shape as you want to look like the models!
You will stand out wearing any of the designs!
Con's:
The company website has too many six packs for my liking – I'm more of a keg in the ab department! This could be off putting to people out of shape.
There is a limited choice (about 7) – however more choices should be added soon.
The sizes only range from 29 – 37 inches … for now anyway. For the larger male, they may miss out until larger garments are offered.
Some of the styles are smaller than I normally would have purchased – they rest higher up the thigh than I normally like.
The waistband is a bit too bland with the company name 'Artillery' in gray. I would have preferred some colour here.
The website is a bit too 'eh!' for a lot of my male friends – the style of it put some people off but this could easily be sorted.
Final Thoughts:
I honestly never thought I could ever get excited about underwear but I am now! These are great garments and really stand out, feel great and make you feel sexy. Well worth spending extra to get them shipped!