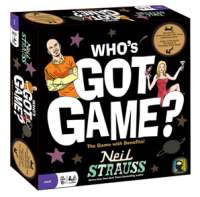 Product:
"Who's Got Game?" Board Game.

What is it:
It's a cool, fun and exciting board game, that blends dating, social interaction and helping the two sexes interact. It is 4+ player game that lets you touch, feel, question, dare, challenge (and so much more) your fellow players!
It gets you up close and personal with your fellow players and is the ultimate social lubricant!
Players take turn being 'The Leader', who reads out various questions and physical tasks that the other have to complete (some are brilliant if you have hot girls playing!) with the 'Leader' scoring them on their performance. At the end, each player is faced with 'The Final Challenge'. The winner is the player with the most points … or phone numbers! 🙂
The box states the gaame is for adults (18+) but you could probably have your teenage kids playing, if you wanted to play as a family. The more 'risque' cards could be removed ahead of time. However, it is FAR more fun to play with adults … preferbly hot and single adults.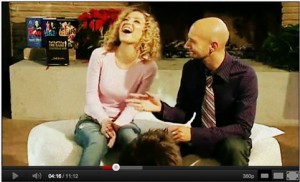 Who's made it:
Neil Strauss, seven-time New York Times bestselling author of the PUA/Seduction books 'The Game' and 'Rules of the Game'. Neil worked alongside Adam Kornblum to bring the project to life and Adam is the go-to guy (basically he does all the work!).
How much is it:
$29.99 / £19.09 (plus shipping if your outside of the US about another $10)
Where do you get it from:
Is this an Affiliate Link:
No – but I did get a free copy to review (massive thanks to Adam Kornblum)
What do you get for your money:
You get a standard sized board game, around the size of a Pictionary game. It comes in a sturdy, visualise appealing box.
The box contains: a egg timer, pack of pencils, score cards, note pads and a selection of different style action/question cards that make you interact with the other players (in a fun and sometimes sexy manner – pick hot girls to play with – Ed's tip!).
With the large volumes of cards provided and a good shuffle each time, you can literally have hours of fun with the game.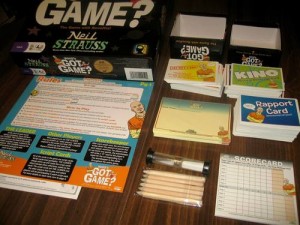 Pro's:
 The game is very fun to play – if you struggle for things to do with a girl on a date (I can suggest a few things), then play this! Each girl I've played the game with loved it.
It's very easy to get into and start playing. Try and ensure that you team up with the girl you like (you'll see why!).
The game challenges you, not just to play but to truly interact with the other players. The final challenge – I won't spoil it here – proves just how much you were paying attention to what was happening in the game. It is a great idea that I don't think I've seen before … in a board game!
A cool trick I tried was to take the 'Script Cards' (that tell you the actions to perform) with you on a night out. Using these cards and explaining the process, was a good ice breaker for those in my groups who struggled with what to say to girls. We found girls came over to join in when they saw others laughing and interacting with us – recommend you try it! 🙂 Then you simply ask the girls to come to yours to play the game – simple date!
There are a lot of cool facts and information on the reverse of most cards and even a 'know it all' like me learned some things! 🙂
You can download more scorepads from the main website when needed – something I don't think I've seen before. This game is very addictive and you can use up the scorepads, the games comes supplied with quickly. So free downloads like this are a welcome boost!
The look is great. Smart, colourful drawings on a black box and with a product name that always brings queries from friends and girls.
Con's:
You can get asked some very 'interesting' questions! Do NOT play with your Ex, if she's the jealous type or still got a thing for you!
You may learn how truly boring the girl you like (or your friends) really are.
Some of the questions asked are a wee bit weird. A few questions and actions got some 'oh that's so cliche' or 'what a weird question' comments. However, these terms fit the (niche) 'style' of the game and if you know Pick Up, these terms come as standard.
There is a lot of PUA terms in the game and if you hate the Pick Up Community, this will be off putting (but why you'd buy a PUA inspired game then in the first place would be a mystery!) but a girl did comment on the heavy use of the terms in the game.
It can be difficult to keep a shy girl interacting. You are judged by how successful you perform certain actions. A girl I played with, got very self-conscious but with some forward planning, offering a chance for such players to pick a new card and some good old fashioned encouragement (or alcohol), this can easily be taken care of.
There is not a compartment for each type of cards in the box, so if your a neat freak, you can find your carefully packed away cards being scattered around your box when you open it again – this was a nightmare for my OCD inflicted self!
There is a few Pick Up Terms used that I really hate but this is a small critique!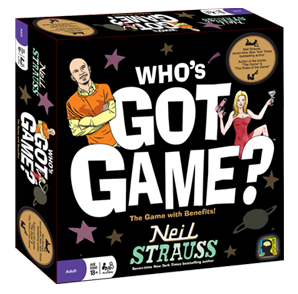 Final Thoughts:
This really is a very enjoyable game. Apart from my dislike of standard PUA terms originally, it doesn't really take away from the enjoyment of the game. I was struggling to find my standard seven problems with this game!
The game is fast and fun and really can break you out of your inhibitions. It also is something a lot of girls will not have seen before and its a good way to get up close and personal with them fast.Everyone who played the game with me enjoyed themselves and even the most reserved people broke out of their shell and got into the fun. A great bonus of the game – it brings out your fun side!
On a personal note, I would just like to say a massive thanks to Adam Kornblum. He was kind enough to send me a review copy of the game. Unfortunately, a few things have come up in between doing the review (job interviews etc) but he was a true star and helped in any way he could. I'd just like to say a personal thank you for his time and patience and I am very chuffed to have had the pleasure to be introduced to him.