Just thought you'd like to know, one of my favourite supplement companies are holding a Sale: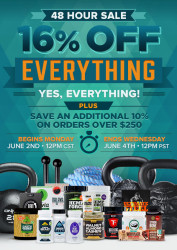 ONNIT! I thoroughly recommend the Alpha Brain as it is rocking my productivity and thinking (review coming shortly). I just didn't want you to miss out on this sale as they have badass sports equipment like goblin and monkey kettlebells, steel maces, amazing supplements and very tasty food … at great prices but now with 15% off it's an even better deal for your money. Have a look and let me know what you think! Please note though that the link in the pictures and text are affiliate links (I get a small $% per sale if bought through these links).
The promo code is JUNE48 and the sale is live now and will end on 6/4/14 at 12PM PST.
A little about Onnit:
"Onnit started with a humble goal to create effective combinations of natural supplements to elicit peak performance. With the nootropicAlpha BRAIN, our team of elite doctors and formulators targeted the neurotransmitters directly, building a nutrient-based, stimulant-free formula to help bring mental focus and cognitive function to the pinnacle of one's capability. With preliminary Alpha BRAIN clinical trialdata pointing to statistically significant improvements in important measures of brain function, Alpha BRAIN has become one of the most respected and well-known nootropics in the world. Following the same successful methodology of clinically tested earth grown nutrientcombinations, we are challenging long held beliefs of what is possible for nutritional supplements.
We also realize that nutrition is the foundation for peak performance and simply feeling great. Partnering with world-renowned weight management and performance coach Mike Dolce, we set about offering foundational foods to help support a healthy lifestyle. Hemp FORCE, our flagship protein, contains a complete amino acid profile along with supportive nutrients that are both delicious and highly beneficial to optimal function. The Earth Grown Nutrient Powerfood is another staple of our dietary foundation as it offers a bounty of 24 natural ingredients, which run the gamut of green foods, sea greens, colorful fruits, high antioxidant nutrients, probiotics, and enzymes.
Onnit has never subscribed to the belief that just because something is commonly practiced, it means that it is optimal. Working with some of the world's top athletes and coaches we took a fresh look at the ways to achieve peak performance through fitness, building great bodies that look and perform superbly. We found that some of the most effective methodology was anything but conventional. Kettlebells— including our flagship kettlebell, the Primal Bell — are only the starting point for our training program, which includes our Steel Maces,SteelBells, Heavy Clubs, and Battle Ropes. Whether you are looking to burn fat, build muscle, or improve functional athletic capability, the Onnit fitness program has a variety of time-tested tools to help you on the path to Total Human Optimization."
————————————————————————-
From time to time, I will make announcements like this on events happening with my affiliates. Some of my lovely readers have asked for these kind of heads-up posts so they can be kept in the loop of what is happening. Please note that these sorts of posts will be very rare and will not detract from the usual awesome programming at NextLevelGuy!